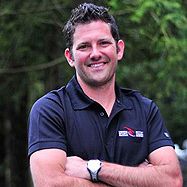 Trent Stellingwerff, sports nutritionist is this week's guest. Trent and Steve first met as coaches in Valencia at the 2008 World Indoor Championships and he has since had a glittering career in the sport and exercise sciences. Trent now currently works at the Canadian Sports Institute, leading the track and field nutrition support team and is also the institute's lead for innovation and research. Trent is undoubtedly one of the leading applied performance practitioners in the world, not only for his technical knowledge and skill but also the holistic manner in which he operates.
Steve and Trent begin by exploring their coaching backgrounds and Trent's relationship with his wife, Hillary, a Canadian track and field middle distance runner.
Trent emphasises the importance of variability in one's life and career. Steve and Trent then explore the generalist vs specialist debate, gaining breadth and depth and how Trent has maintained his specialist knowledge across his career.
Trent explores the concept of tacit knowledge and goes on to offer advice for young practitioners. He also begins to explore the variability of training, systematic overloads and the importance of the psychological and social journey.
Trent offers insight into sport science's state of play in Canada. He covers points around pseudoscience, barriers to entry, demonstrating impact, measuring energy expenditure/intake and relative energy deficiency syndrome.
Steve and Trent highlight the importance of emotion and cultural identity on eating behaviour before examining some dietary trends.
Trent offer lessons learnt from his career to date. These include being more measured, understanding context, minimising noise, holding himself accountable to the highest standards and driving impact in research and applied work. 
Lastly, Steve asks Trent what is next?
Follow Trent on Twitter https://twitter.com/TStellingwerff 
Supporting Champions on Twitter www.twitter.com/support_champs
Steve Ingham on Twitter www.twitter.com/ingham_steve
Supporting Champions on Linkedin, www.linkedin.com/company/supporting-champions
Instagram https://www.instagram.com/supportingchampions/
A reminder if you're keen to pre-register for the next wave of Graduate Membership enrolments then you can do so at https://supportingchampions.co.uk/membership/
If you're looking for some coaching support or some virtual team development help to support you to get to the next level in work, life or sport then take a look at https://supportingchampions.co.uk/coaching-mentoring/
or drop us a note at enquiries@supportingchampions.co.uk then you can sign up for a free consultation to explore which package is right for you.